About Us
New York Burgers offers many delicious burgers, hot dogs, and other burger joint classics you're sure to love! New York Burgers has been serving up tasty food at a delicious price, and with 30 years of practice, we've pretty much nailed it too! Grab a bite of the Fries with Chili and Cheese, the crunchy Chicken Fingers, or if you're feeling very hungry, try the Triple Fat Boy Burger!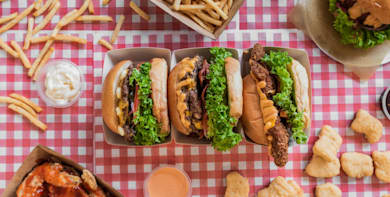 Reviews
Roger
"mmmmmm"
2022-09-23
Jim
"I thought I was supposed to get bonus rewards points today"
2022-09-21
Mike
"I'm sorry you were so close too closing ! Thank you for making the order anyway :)"
2022-09-16
Roger
"i love how i can always count on NYB for making delicious food with sizable portions at a great price! keep up the great work!"
2022-09-15
Contact Us
Find Us
1335 Notre Dame Ave, Winnipeg, MB, Canada, Winnipeg, R3E 0P5
Opening Hours
Monday
10:00 AM - 8:00 PM
Tuesday
10:00 AM - 8:00 PM
Wednesday
10:00 AM - 8:00 PM
Thursday
10:00 AM - 8:00 PM
Friday
10:30 AM - 8:00 PM
Saturday
11:00 AM - 8:00 PM
Sunday
11:30 AM - 7:00 PM
Please note, delivery times may vary.
We deliver to
R0H, R2H, R2K, R2L, R2P, R2R, R2V, R2W, R2X, R2Y, R3A, R3B, R3C, R3E, R3G, R3H, R3J, R3L, R3M, R3N, R3P, R3R, R4A